The Benefits of Hate Crime Training
Posted on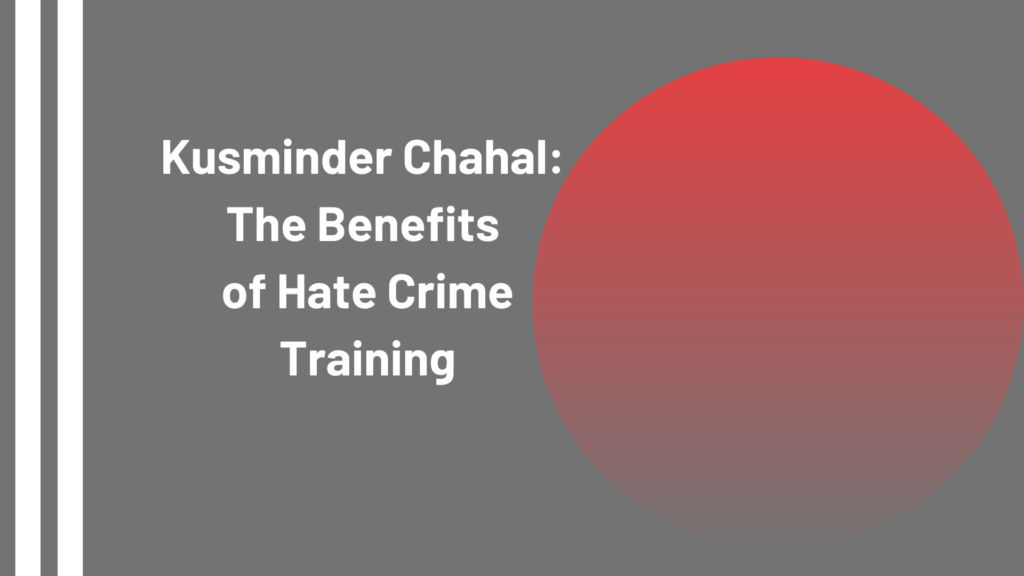 Between April 2021 and March 2022 there was an increase of 26% across all five monitored strands for hate crimes recorded by the police in England and Wales; 155,841 compared to 124,104 in the previous year. The increase may be because of better police recording practices, more awareness and confidence to report, an increase in actual offences or a mix of all these factors. But what is known is that hate crime has a disproportionate psycho-social impact compared to non-hate motivated offences on its target. People who report often tell of suffering repeat victimisation before they disclose what is happening to them. Hate crime has a devasting impact on those who are targeted, their families, communities, and wider society, a price paid by all.
The insidious nature of hate both online and offline strips away confidence, choice and creates a climate of fear, trauma, suicide ideation and disempowerment. 
Often people must change normal routines to recreate safety and security. Beyond disclosing to the police there can be little face-to-face practical and emotional support. Hate crime practitioners, with limited resources, often work on their own, feeling isolated and overwhelmed. My research with them led to an accessible guide that practitioners can gain insight from and use evidence-based frameworks to enable and enhance the support they offer.
Stop Hate UK has a deep connection and understanding of the role of support, advocacy, and the impact of hate at a community level that guides the training we offer. Practitioner focused workshops and events support them to:

• Have time to engage and reflect with the everyday challenges of hate crime.
• Become familiar with their policy expectations. 
• Develop skills and knowledge to support from a client perspective.
• Engage with the latest research evidence.
• Connect with experienced professionals in the field.
• Reduce the isolation they may experience when supporting victims.
Connecting practical experiences, with policy, practice and research evidence enables the practitioner to respond from a point of confidence and strength, able to listen, offer options and co-create a plan of action that empowers both them and the complainant.
 
Stop Hate UK works with a range of agencies, including in education, housing, police, and charities to co-create training that responds to the needs of their organisation with delivery as short as an hour. When we receive a request for training, we help the organisation to identify their hate crime training needs and propose an outline plan. Where possible we like to hold a short focus group with potential participants of the training to identify any learning, information, and knowledge they require beyond the standard template of 'hate crime awareness'.
Co-creating training leads to ownership of the learning, development of unique resources and tailored skills and growth in knowledge. For example, a focus group with practitioners who work across the country supporting refugee and asylum seekers identified specific information and knowledge that would enable them to make powerful organisations accountable. This led to a bespoke, evidence-based training and a toolkit. The feedback was encouraging:
"Great presentation and insight. Meeting participants and hear them share ideas, the multi-agency partnership, and the community trigger are the highlights for me."
"The training was excellent, really interesting and I've learned loads! I'll be using a lot of this information in our policies and procedures and will include this in our volunteer training."
Delivered online to over 40 practitioners the feedback highlights the practical knowledge gained, the transferability to other domains of the organisation to respond to hate crime and the potential to make a difference on the ground.
 The type of training offered by Stop Hate UK represents good investment and value for money that benefits and supports people who are reporting hate but equally empowering practitioners, bringing multiple benefits and social value to reduce the price of hate that is paid by us all.
Written by Kusminder Chahal, Senior Research Fellow, Birmingham City University and Director of Training Services, Stop Hate UK