Our response to latest Hate Crime figures from Home Office
Posted on
The Home Office has released the latest Police recorded hate crime figures. There were 145,214 hate crimes recorded in England and Wales. While overall hate crime incidents in England and Wales fell by 5%, there was an 11% increase in recorded hate crimes against transgender people. Additionally, religiously motivated hate crimes increased by 9%.
It is suggested by the Home Office that increased discussion of "transgender issues" may have contributed to the rise in such offenses.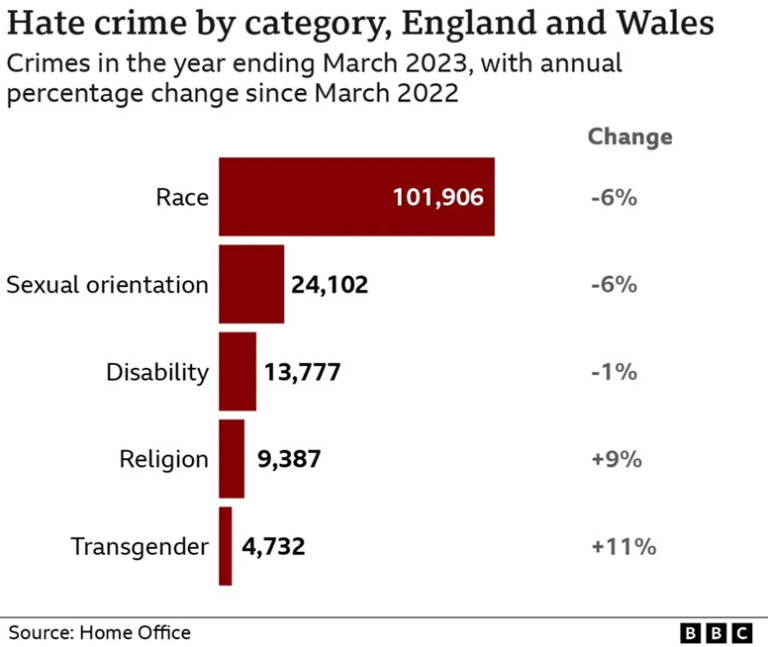 Discontinuation of the Hate Crime Action Plan by Home Office
Despite increases in anti-trans and religiously motivated hate crimes, the Home Office will not renew its Hate Crime Action Plan, which was introduced to encourage more reporting of hate crimes and improve police responses, due to the decline in overall hate crime offenses recorded.
However some experts, like Criminology Professor Matthew Williams at Cardiff University, have expressed concerns highlighting that the overall decline in hate crime statistics may be misleading due to the Home Office advising police to "prioritise free speech" when dealing with potential hate incidents.
Stop Hate UK's Continued Efforts
The decision to discontinue Hate Crime Action Plan by the Home Office is worrying, especially when tragedies like that of Brianna Ghey's murder continue to shake the transgender community and expose them to further vulnerabilities without a strategic level challenge to anti-trans sentiments within society.
Despite the discontinuation of the Hate Crime Action Plan, we will uphold our mission statement and continue our efforts in increasing reporting of hate crimes, encouraging better police responses and providing a platform for people affected by hate crimes to receive the support they need.
Our specialised education and training programmes
Professor Williams's HateLab project uses artificial intelligence to monitor hate speech online, particularly noting a significant rise in anti-trans rhetoric on social media. The project shows that what is said online can have real-world consequences, with online hate speech correlating with hate crimes in certain areas.
In the current landscape of hate crime, the conversation around online hate speech and the delicate equilibrium between free speech and hate speech is more relevant than ever. 
At Stop Hate UK, we offer exclusive educational and training initiatives dedicated to tackling these pressing issues, and we invite you to benefit from our expertise. Some of our courses include:
Digital Responsibility
This training session provides an understanding of what Online Hate is, its impact and its consequences. As well as strategies for safe behaviour online. 
Find out more
Free Speech, Hate Speech and Social Media
This course will explore the balance between the right to freedom of speech and other rights enshrined in the Universal Declaration of Human Rights in the context of the use and abuse of social media.
Find out more
All our courses are suitable for any sector, group, or individual and they can be tailored to your specific needs and context by our team experienced in these areas.
Browse through our courses and reach out at info@stophateuk.org to enquire more about our training courses.
Our Helpline Service and Reporting Apps
24-Hours Helpline Services and Apps
We help to tackle all forms of Hate Crime and discrimination by ensuring every person, regardless of identity, has someone to listen to, believe, and advise them. 
Our helplines and reporting apps enable people to access independent support and information, 24 hours a day, 365 days a year.
Find out more about our services