National Hate Crime Awareness Week 2023
National Hate Crime Awareness Week will take place from 14th – 21st October 2023. So we need you all to start thinking about what you will do to support the week this year!
You will find lots of information and resources below and you can also visit the National Hate Crime Awareness Week website for more details for ideas on getting involved. Also, be sure to look out for and use the hashtag #NATIONALHCAW on social media.
As always Stop Hate UK is continuing to spread the message of #SpreadLoveNotHate
You can read our blog to learn why we feel this is an important vision for us all to share.
We will continue to share this message throughout National Hate Crime Awareness Week 2023, so please help us by including the hashtag #SpreadLoveNotHate in your National Hate Crime Awareness Week social media posts.
How You Can Show Your Support
1. Display Our Web Banner On Your Website

2. Take Our Hate Crime Pledge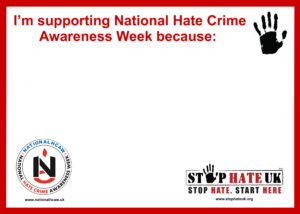 3. Download and Share Our Social Media Posts
Images you can share on your social media during National Hate Crime Awareness Week.
Stop Hate UK's #SPREADLOVENOTHATE Merchandise
We have a fantastic range of #SpreadLoveNotHate Stop Hate UK merchandise available to purchase on our website, including T-Shirts, Pens, Carrier bags and more. They are perfect for any National Hate Crime Awareness Week events you are hosting.
'Spread Love Not Hate' Notebook with Pen

Stock Out

'Spread Love Not Hate' Shopping Trolley Token Keyring

Spread Love Not Hate Drinks Mat

'Spread Love Note Hate' Carrier Bag

Stock Out
Make #NationalHCAW 2023 the Best One So Far!
There are plenty of ways you can get involved with online events, webinars, putting up posters, supporting and sharing on social media and even starting conversations around reporting Hate Crime online and in-person.
These are some of the ways people have got involved with National Hate Crime Awareness week in previous years.
'Hands Up to Challenge Hate' – People posted images on social media with their hands up as a pledge to challenge hate. 
Candlelit vigils were held across the country, including London, Sussex, Devon, Suffolk, and Berkshire.
There was plenty of coverage in the media and a huge campaign on Social Media!
In past years, we've been overwhelmed with the amount of support and would like to thank everybody for their letters and statements, including our Patron, Baroness Lawrence, former Prime Minister David Cameron, and many other senior politicians.
Our thanks also go out to all those who have been involved in, planning, and attending events across the country, and to those who organised and stood vigil to remember all those affected by Hate.  
So, let's get ready for National Hate Crime Awareness Week 2023 and make it one of the most successful ever!
Let Us Know About Your National Hate Crime Awareness Week Events
If you are hosting a National Hate Crime Awareness Week Event, be sure to let us know so that we can help you publicise it through our social media channels. Simply email details to:  fundraising@stophateuk.org
For more information about National Hate Crime Awareness Week please visit: www.nationalhcaw.uk
Thank You to Everyone Who Participated in Our Hate Crime Awareness Pledges!