Response to the Home Office Hate Crime Data 2021/2022
Posted on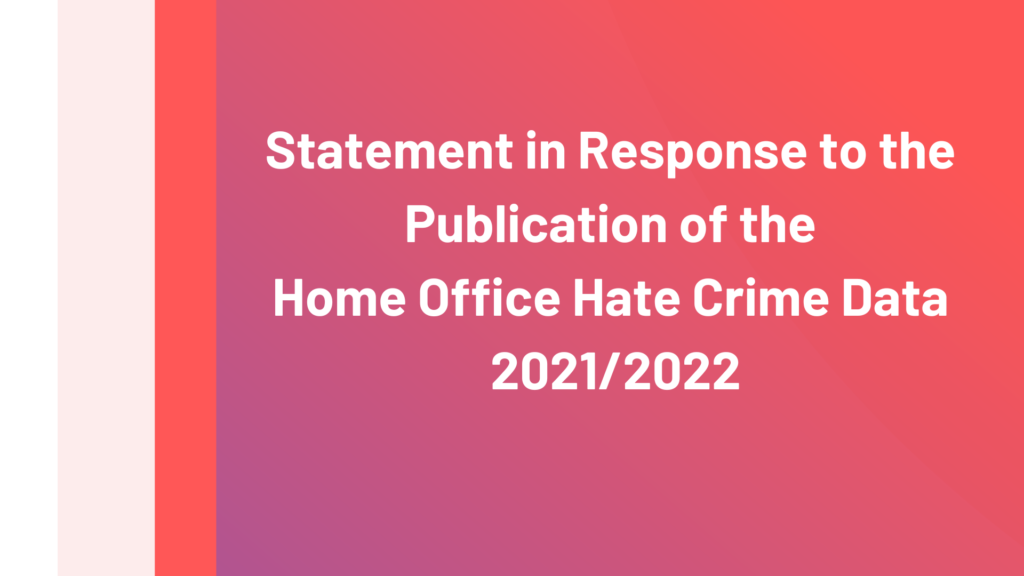 Stop Hate UK welcomes the publication of the latest Police Hate Crime data. The data, detailing the number of Hate Crimes recorded by all police forces in England and Wales, precedes National Hate Crime Awareness week  (8th – 16th October). This latest iteration shows an increase of 26% across all the monitored Hate Crime strands, including some significant increases within individual motivations. This is the largest annual increase in Hate Crime reporting since 2017.
While some of the increases may be due to improved recording processes within the Police, we also acknowledge that more people are reporting to the police and that this is welcome and long overdue.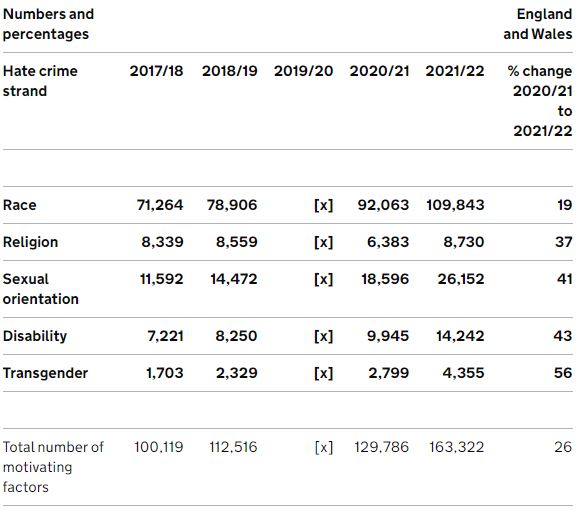 There have been significant increases to reports relating to Gender Identity (55%), Sexual Orientation (41%), Faith (37%) and Disability (43%). We believe this is hard evidence of the prevalence of Hate in our society, which we and others in this sector have witnessed and highlighted for several years.
We would also attribute the significant increase in reports across all protected characteristics to a combination of factors; these would include, the sensationalist coverage of controversial issues in both the 'traditional' and social media platforms, together with the 'echo chamber' effect of the shift to a reliance upon the online space during the recent Covid 19 'Lockdowns' which has had a noted effect in the polarisation of public opinion, in conjunction with the ongoing increase of both misinformation and disinformation, and the rising prevalence of 'hateful' conduct online, which appears to becoming normalised as part of the experience of the online space.
However, we also believe that reporting is only the first step and very often people affected by Hate Crime become frustrated once entering the Criminal Justice System. The % of recorded Hate Crimes that resulted in a charge or summons remains low at 9%. We know from our clients that this often inhibits initial reporting.
This annual publication is generally tempered by contextualising against the framework of the estimates contained within the British Crime Survey. On the face of it, the gap between recording and the British Crime Surveys' estimates of actual incidents has closed significantly and indeed in the case of Race and Faith motivations has been overtaken. However, the latest Crime Survey data relates to 2020 and is not expected to be wholly refreshed until 2024, which means we are unable to properly reflect on the latest published Hate Crime data. 
Indeed, we do not see the British Crime Survey as a definitive measure – simply a guide. What we do know from our work 24hrs a day, 365 days a year, is that people continue to suffer hateful behaviour, targeting personal identity in their daily lives, in their neighbourhood, in public places, in their homes, and in their workplace. Many do not report through official channels and so the prevalence is always underrepresented. Many incidents do not meet the criteria to fall into the monitored strands and so are not only unreported but those affected are often unsupported. Personal Identity is not confined to the five monitored strands, and we believe data collection should acknowledge that fact.
While we see increased reports as a positive sign there is much more to do to tackle the insidious behaviour that typifies Hate Crime.
Written by Ian Davey and Bill Howe
Sources: 
Home Office, Hate Crime England and Wales 2021-2022. Available at: https://www.gov.uk/government/statistics/hate-crime-england-and-wales-2021-to-2022/hate-crime-england-and-wales-2021-to-2022