Stop Hate UK thanks students at Chatham & Clarendon Grammar School for their kind donation
Posted on
Chatham & Clarendon students have donated to Stop Hate UK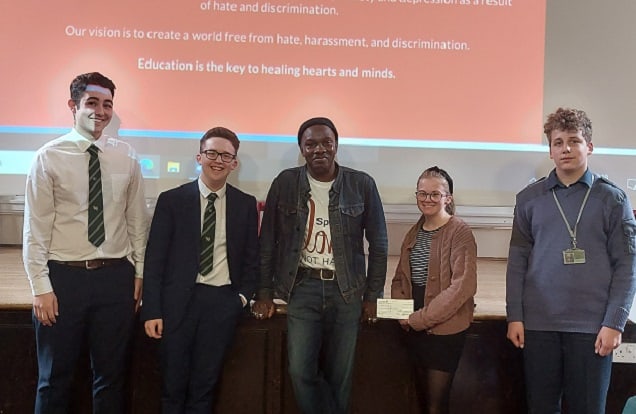 Students at Ramsgate's Chatham & Clarendon Grammar School have donated £1004 to Stop Hate UK.
Stop Hate UK was chosen by the students of the Rothschild-Pearce house to be the charity of choice for this academic year after receiving the most student votes in a poll of four charities.
The donation was presented to our ambassador, Libertines band member Gary Powell  during a school assembly.
Here is what 6th former Mary, who put the nomination for Stop Hate UK forward had to say:
"There have been protests against racism in not just America but the UK too. It's important to remember and reinforce through education that racism is not just an American issue and it is a very prevalent one in the UK.
Through research, I found a UK charity which provides support for people that have suffered hate crimes including racism, homophobia, transphobia and sexism. They employ trained caseworkers to help victims deal with mental trauma. There's a small minority of black, people of an ethnic background and LGBTQ+ at CCGS and that's why I believe it's even more important to ensure students are educated in current problems.
Unfortunately at some point in their lives many students at CCGS will suffer hate crimes whether that be racism, homophobia etc. and it's important they know such acts aren't tolerated and that there are places to go for support. I think that as a school it's important to show solidarity and it opens up the gateways for important conversations that need to happen.
Kent in general is known to have very high hate crime rates. Just between the years 2015-2018 there was a 193% increase.  I understand the majority of students won't be affected by this but it's important to highlight that to students instead of allowing ignorance to overtake. This won't stop anytime soon without proper education and information which I believe this charity can do."
We would like to thank students at Chatham & Clarendon Grammar School for their kind donation
The youth are the future of our society and it is incredibly encouraging to see students with such awareness, compassion, and kindness at Chatham & Clarendon Grammar School. 
At Stop Hate UK, we believe that we can achieve a society free from Hate, harassment, and discrimination. One of the ways to make this possible is with the education of our young people, who inherit the society we leave behind. The education on acceptance, tolerance, inclusivity, and anti-Hate. 
It is wonderful to see the initiative to achieve a Hate-free society from students like Mary and her schoolmates. 
Thank you once again to students at Chatham & Clarendon Grammar School.