Is Your Workplace Autism-Friendly?
Posted on
Hear from our Hate Crime Community Engagement Worker, Kieran Reynolds, on his experiences in the workplace as an autistic person.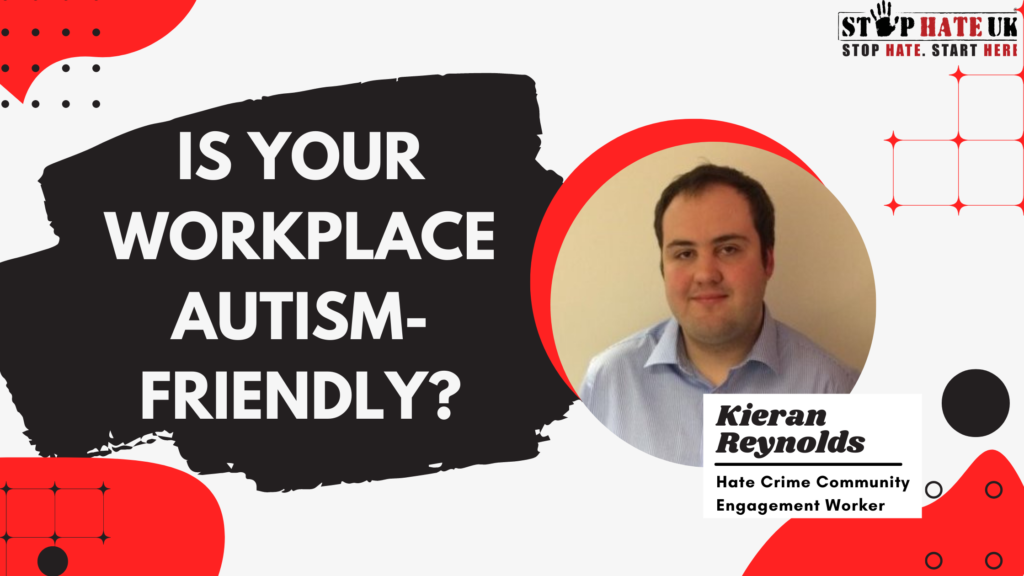 Last year, The Office for National Statistics (ONS) published data that shows just 22% of autistic adults are in any kind of employment. This is despite research from the National Autistic Society suggesting that the majority of Autistic people want to work. Why is this the case and what can be done to increase the number of Autistic people in employment?
As an Autistic person, I have had a range of good and bad experiences in the workplace. At its worst, I have experienced bullying, discrimination, and humiliation. I would often find that I would be the person trying to make 'reasonable adjustments' for my employer rather than the other way round. I would constantly have to 'mask' my neurodivergence. This is extremely tiring and has had a significant impact on my mental health.
I joined Stop Hate UK in October 2020 where I am currently leading our work in the London Borough of Sutton. Before I applied for the role, I had the opportunity to speak to both my prospective line manager and the CEO. This gave me the opportunity to find out more about the charity and what the role involved. It also gave me the opportunity to ask questions about the job description. At interview, I had the opportunity to see the interview questions in advance and I also had extra time to consider my responses and process information. This was a significant help.
When I started my role, various accommodations were put in place to help support me in the role. This included regular meetings with my line manager, specialist support and equipment provided by the government's Access to Work scheme, the flexibility to work my hours around any appointments I may have and the opportunity to work from home.
I have found working at home to be extremely beneficial for me. It has allowed me greater flexibility and has also meant that I no longer have the stress of regular commuting. The Pandemic showed that for many organisations, working at home is possible if the will is there. I believe that greater flexibility is key to increasing the number of autistic people in work.
A bad workplace experience can be extremely damaging for an autistic person, and this is why it is also important that support is available to allow Autistic people to find work that works for them.
Albert Einstein wrote 'if you judge a fish by its ability to climb a tree, it will live its whole life believing that it is stupid'. This quote is extremely relevant to many Autistic people who can identify with the fish who is unable to climb a tree. Despite this, fish are brilliant swimmers and with the right support and encouragement, I genuinely believe many more Autistic people can access and flourish in the workplace.