10 LGBTQIA+ Music Artists To Listen To Now
Posted on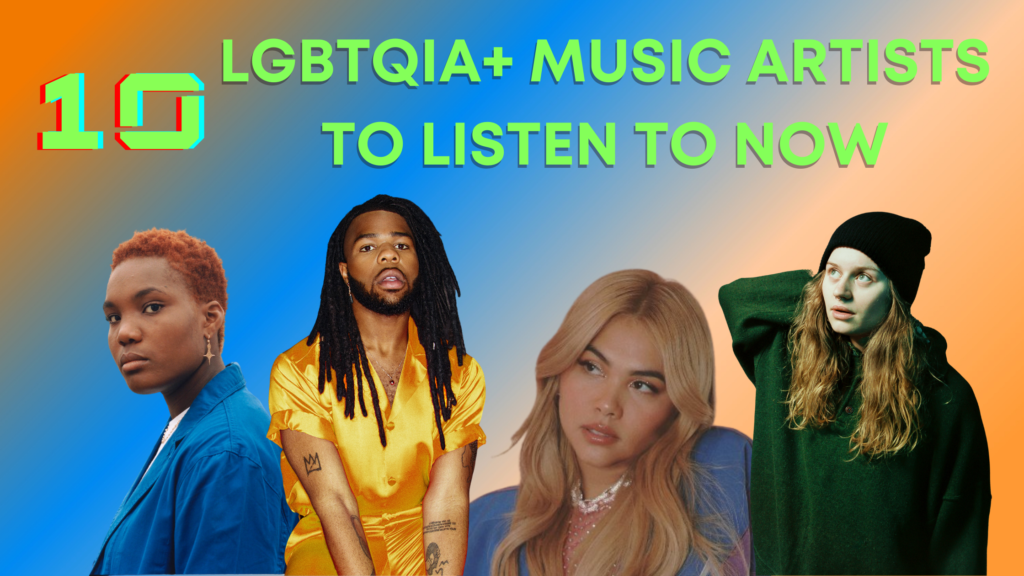 On the last Friday of LGBTQIA+ History Month, we want to shine the spotlight on music artists who are living their truths openly, courtesy of music legends who paved the way for today's generation to own their identities with zero shame.
Elton John came out as bisexual in Rolling Stone magazine in 1976, David Bowie dismantled gender binaries and heteronormative identities with his Ziggy Stardust persona in 1972, George Micheal came out as gay on live TV in 1998 with the statement – "I don't feel any shame whatsoever". 
These queer icons opened the doors for today's big stars to be themselves – Sam Smith and Halsey who are non-binary, Anne-Marie and Miley Cyrus who are bisexual, Lil Nas X and Troye Sivan who are gay. These artists and many others are able to create music that is authentic to them and that is loved universally.  
We want to share 10 new and upcoming  LGBTQIA+ artists that are not big names like the ones mentioned above but deserve the spotlight for their exciting and inspiring talents.
Just 21 years old, Arlo Parks has debuted with a critically acclaimed album in 2021 that peaked at number 3 on UK Charts, Collapsed in Sunbeams. She is one of the most exciting emerging talent in the music industry right now. 
MNEK is a singer, songwriter and producer, who has been nominated for a Grammy award. Writing and producing hit music for Zara Larrson and Craig David, MNEK is making his mark on the music industry right now.
Starting her career as a child actor on Disney, Hayley Kiyoko broke out as a distinguished music artist with her viral song Girls like Girls in 2015. Since then, she has released a critically acclaimed album Expectations and an EP Demons.
At just 20 years old, Lava La Rue is a London-based rapper, designer, and founding member of arts collective NINE8. They are quickly gaining recognition for their distinct funky and Lo-Fi RnB sound.
Solo act The Japanese House aka Amber Bain is a singer-songwriter and multi-instrumentalist. She started out anonymously producing music with the band, The 1975. After signing onto The 1975's record label, Dirty Hit, and releasing her own music which received many favourable reviews, she opened for the band on their 2015 tour, revealing her identity and gaining a larger fan base. 
The first act signed onto Phoebe Bridgers's new record label, 22-year-old Claud gained quick recognition with their viral song Wish You Were Gay. Their debut album Super Monster has been critically acclaimed by all major music reviewers. 
Rina Sawayama is a singer-songwriter, model, and actress. Her debut album Sawayama was critically acclaimed across the board, with Elton John calling it "the strongest album of the year". Rina Sawayama came out as pansexual because she "wanted to be honest in [her] songwriting". 
Seeva is the latest emerging talent from London who not only writes and produces all his own music but also independently distributes it in today's digital age. Seeva's debut album We Need to Talk has already left a mark on the queer music scene in which he openly talks about his HIV diagnosis.
Norwegian singer-songwriter and producer started out making music in her bedroom. Her song we fell in love in october went viral online and led her to independently release her debut album If I Could Make It Go Quiet in 2021.
Vincint started out as a contestant in a television singing competition, who then went on to sing an empowering anthem Be Me for Netflix's Queer Eye Season 5 trailer and released his debut album There Will Be Tears in 2021.