Black History Month 2022 - Time for Change: Action Not Words
What is Black History Month?
Black History Month is an internationally recognised celebration of black history, heritage, and culture. A month to celebrate the achievements and contributions African and Caribbean heritage peoples have made to the UK's history and culture.
This year's theme for Black History Month is 'Time For Change: Action Not Words'. Apart from the celebration of history, contributions, and culture, it is time to move one step further and focus on real change that can genuinely bring equality and inclusion in our society.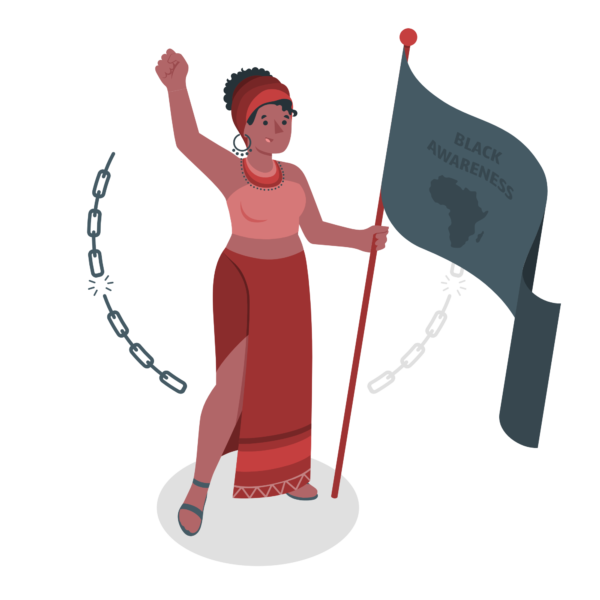 Words cannot change these disparities, actions will. The British Medical Association outlined points for employers to tackle the higher risk of Covid-19's impact on BAME medical staff. Some of these are – tackling discrimination at workplaces, increasing BAME representation in senior roles and empowering all staff to speak out.
If healthcare employers act on these points, BAME healthcare workers will be better represented and protected at their workplaces.
Edith Lewis, a senior University lecturer, has suggested ways to make black students in higher education feel more of a sense of belonging in predominantly white University campuses, which can decrease the drop-out rate of black students at universities. For example, decolonising curriculums to include black perspectives; recruiting more black academics; and holding sessions on inclusion and microaggressions for white students and academics.
There are many ways we can personally take action to reduce inequalities in society, for example, supporting the Green Recovery Plan to ensure all UK households have access to green spaces which will help black families live healthier lives.
Below you can find more ways to take action and make positive changes in society for all.
Ways you can embody this year's theme of action over words
Black history encompasses a plethora of trials and tribulations from the Transatlantic Slave Trade, European colonialism, the black struggle for freedom, global activism against apartheid, the Jim Crow laws in the States, and institutional racism.
The onus to educate ourselves on this shared history of our modern society falls on each one of us, and not on black people. To self-educate and understand this history is our personal work to do.
Here is a list of essential books, podcasts and talks on black history and black people's experiences that you can start with.
When someone experiences racial abuse, the silence of a bystander is louder and more painful than the racist person's actions or words.
Be an upstander – do not stand for hate but stand up against it. An upstander is a person who speaks or acts in support of an individual or cause, particularly someone who intervenes on behalf of a person being attacked or bullied.
We provide 'Being an Upstander' training course for students in secondary schools to show safe ways to challenge racism and hate when they witness it.
Reporting hate crime also makes you an upstander. Many people may not feel safe stepping in when a racist incident is taking place, and we also do not recommend it as incidents in schools are different from incidents in public which can turn dangerous, but you can take action by reporting it.
Reporting incidents of racism even as a witness is crucial to tackling hate crimes. So, if you witness racism, report it to the police. If the hate crime is in progress or someone is in immediate danger, call 999. If it is not an emergency, then call 101 or your local police.
Or report it to Stop Hate UK – we encourage everyone to report incidents whether they experience or witness them.
In all areas of society where there are disparities – an inclusive, anti-racist and diverse workplace from top to bottom is essential.
Understanding and challenging microaggressions, unconscious bias and racism in workplaces and educational settings is key. This will tackle racism at the institutional level.
Stop Hate UK provides Training and Education courses for educational settings, workplaces, community groups and local authorities are here for anyone looking to embed anti-racism and real inclusivity in their environment and culture.
We have courses like Race, Racism and Responses for all educational settings, and Understanding Systemic and Structural Discrimination for all workplaces.
We also provide expertise and support with diversity, inclusion and equality policy reviews if required.
Support Stop Hate UK and Fight Racism
We lead with a multi-faceted approach to counter hate, educating against hate and discrimination, encouraging reporting of hate crimes, and offering much-needed emotional support.
Our 24-hour helpline is here to support people affected by racism – all day every day.
You can actively tackle racism and create an anti-racist society by supporting our crucial services through your donations.
With real reformation, changing hearts and minds through spreading knowledge, listening, and believing, together we can pave the way forward.
With your support, this monumental task will become that much easier.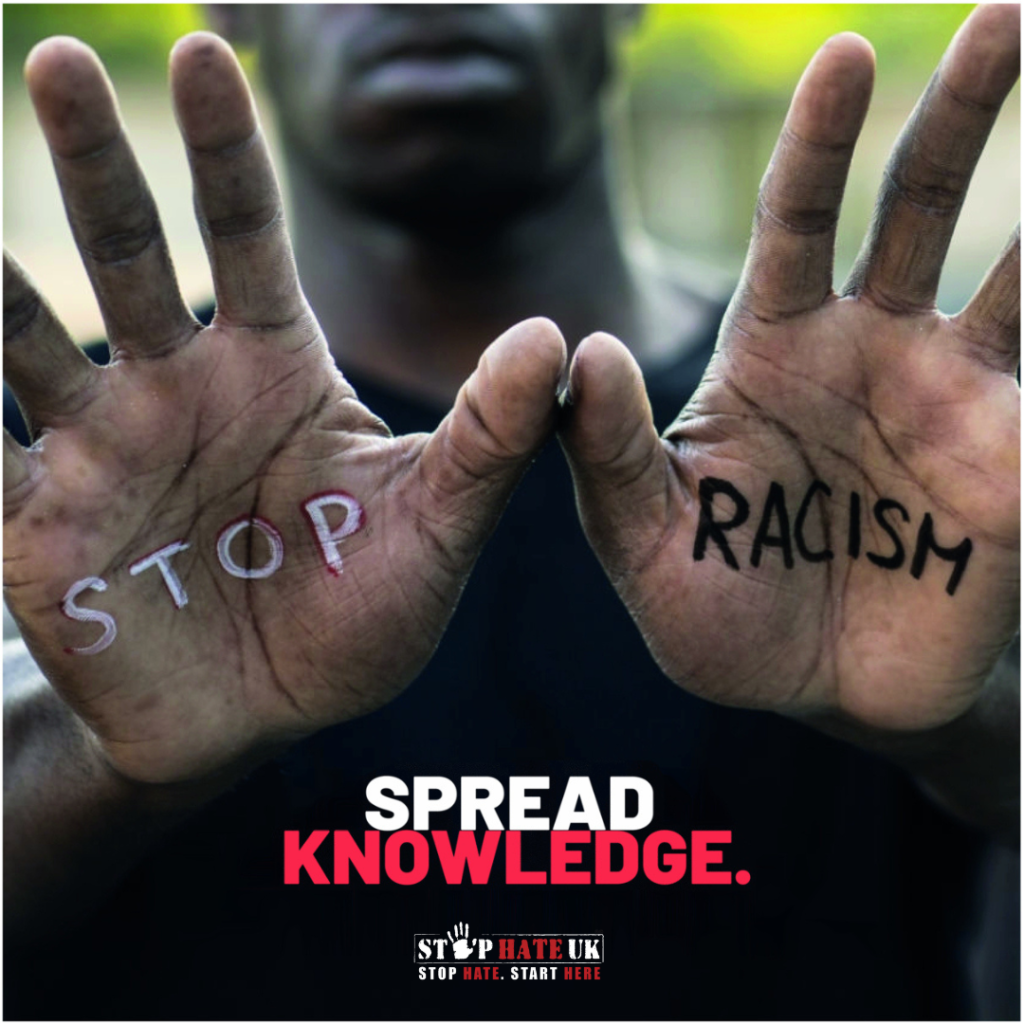 You can help us invest more into the services we provide to people affected by racism and Hate Crimes with a Movie Night fundraiser! Screen inspiring, historical and celebratory films this Black History Month in support of Black History and Black Excellence. 
Whether it's at your workplace, school, university, community centre, or in your backyard – you can set up this Movie Night fundraiser easily all with the help of ready-made resources prepared by the talented fundraising team at Stop Hate UK!
We have for you:
a Step-by-Step Guide on how to set up this fundraiser
Promotional poster  to promote your fundraiser
Templates for a communication email that you can send out
Templates for tickets to hand out
Even templates for popcorn boxes for you to use! 
Social media posts to promote your fundraiser online
Don't worry if you are not sure about what films to screen, we have that covered for you too. We have a whole library of films from all genres – biopics, documentaries, drama, romance, musicals and more!
Here's a preview of our Movie Night Fundraiser resources: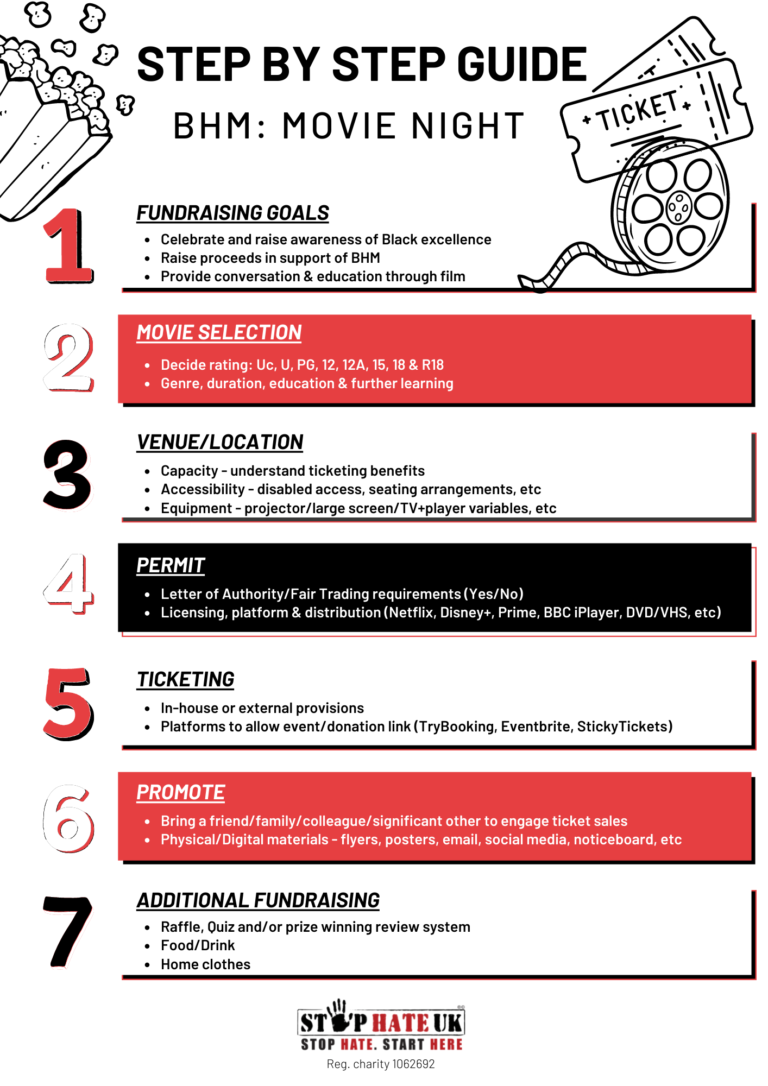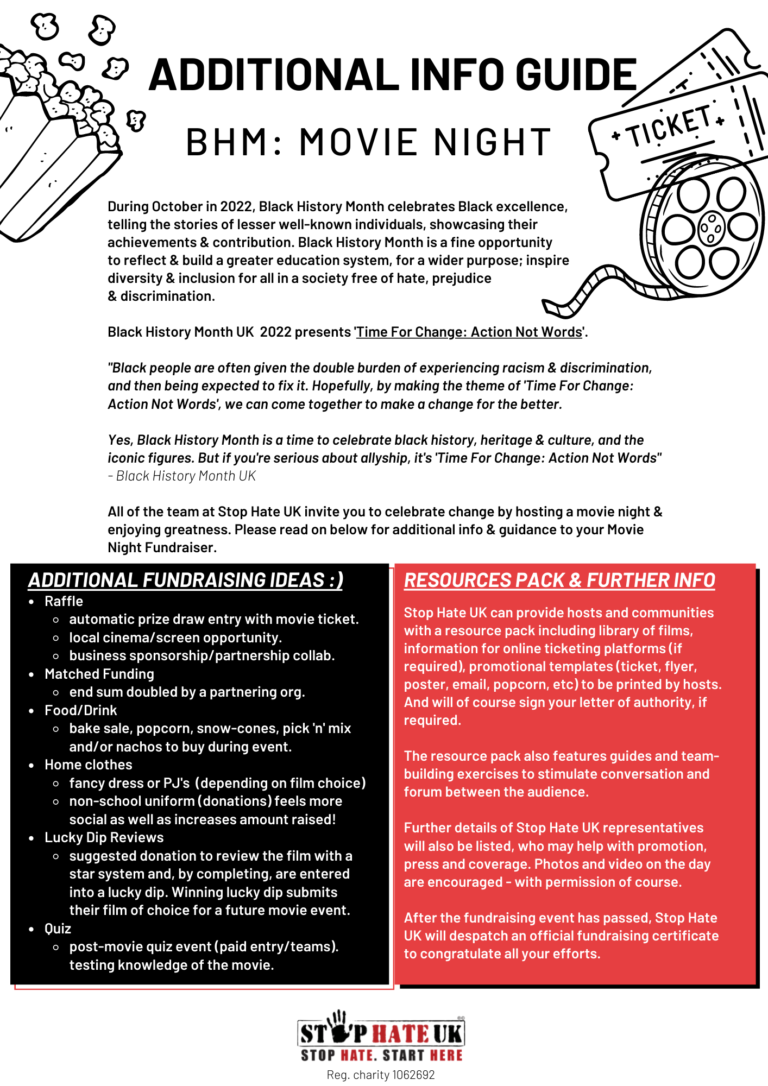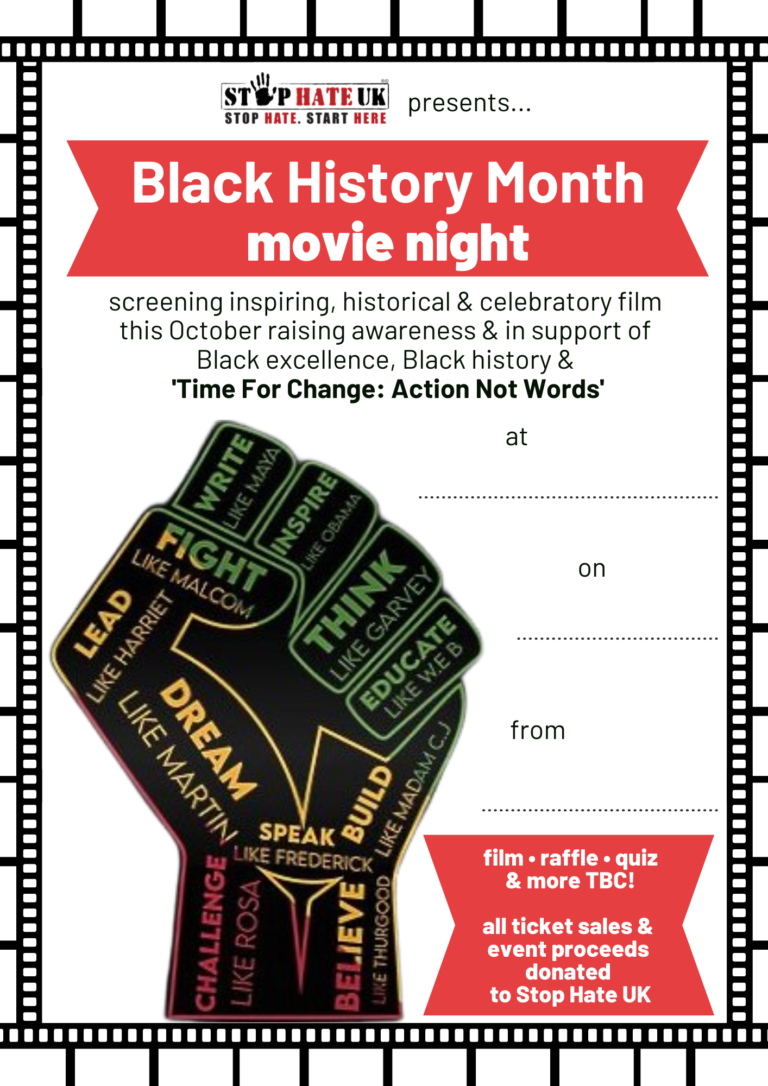 Get All Your Resources Here
Download the rest of the resources for your Black History Month Movie Night Fundraiser!
Download Here