Help with Tackling Alternative Sub-culture Hate Crimes
Posted on
Help the Sophie Lancaster Foundation Form Policy and Strategies Tackling Alternative Sub-culture Hate Crimes
In December 2021, the Law Commission published a report reviewing hate crime laws to examine whether any further characteristics should be added to the five currently monitored (race, religion, sexual orientation, disability, and transgender identity).
The report concluded that Alternative Sub-cultures do not need to be included due to insufficient evidence that Alternative Sub-culture Hate Crimes are prevalent. This meant that there was not "a strong demonstrable need to extend protection to this group."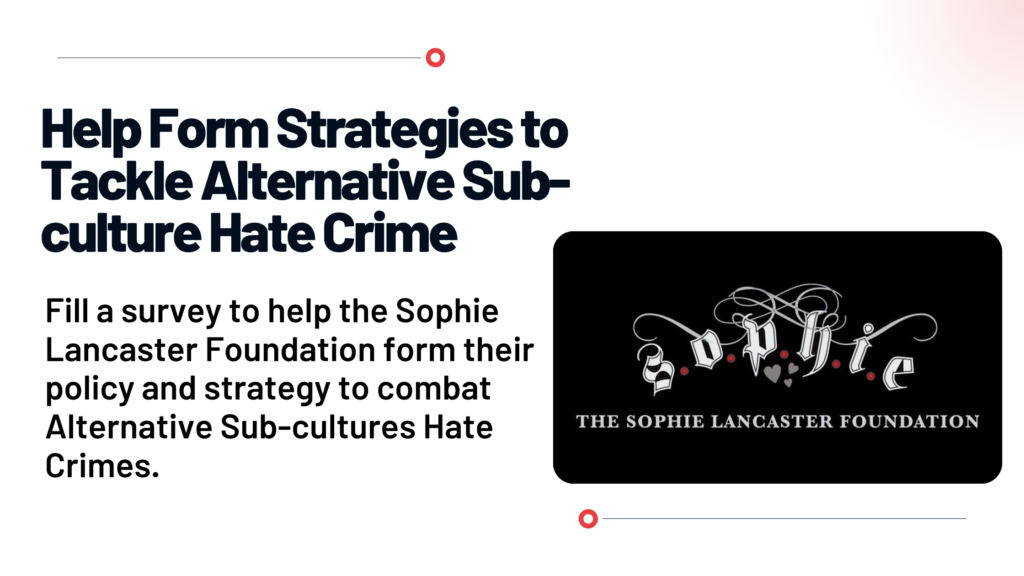 The Sophie Lancaster Foundation is asking anyone aged 16 or over to share their experiences "in regard to any abuse, harassment or violence you have experienced – particularly if you belong to an alternative sub-culture and you know that was why you were targeted or feel that was the case.
We would also like to understand if you reported any incidents and if you did, who you reported it to, and your experience of reporting."
This will help the Foundation gain a greater insight into Alternative Sub-culture Hate Crimes. The results will help decide the Foundation's "policy for alternative sub-culture hate crime and strategies to address it."